Reviews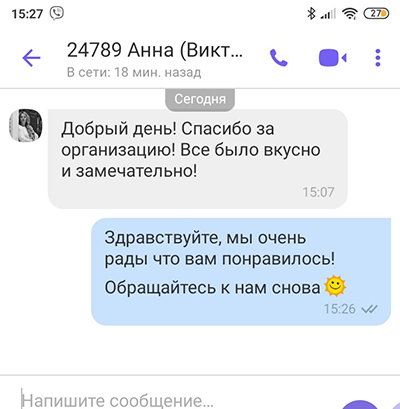 Anna
Good day! Thanks for organizing! Everything was delicious and wonderful!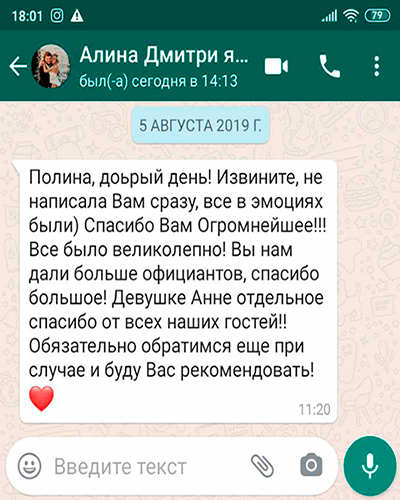 Alina
Polina, good afternoon! Sorry, I didn't write right away, everyone was in emotions) Thank you very much !!! Everything was great! You gave us more waiters, thank you very much! Special thanks to Anna from all our guests !! We will definitely contact you on occasion and will recommend you!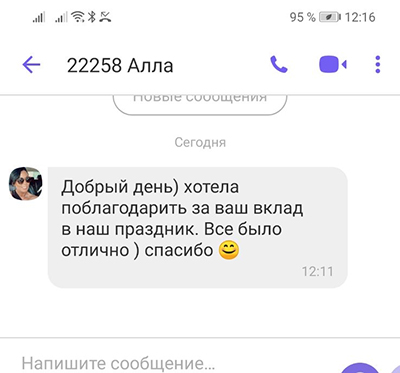 Alla
Good afternoon) I wanted to thank you for your contribution to our holiday. Everything was great) thanks :)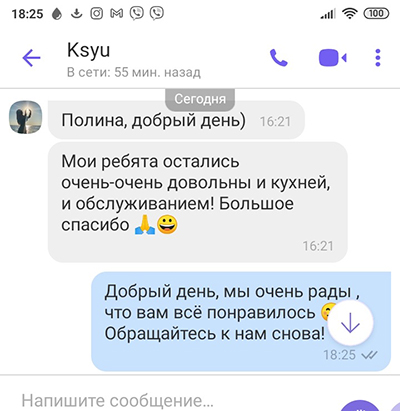 Oksana
My guys were very, very pleased with the cuisine and service! Many thanks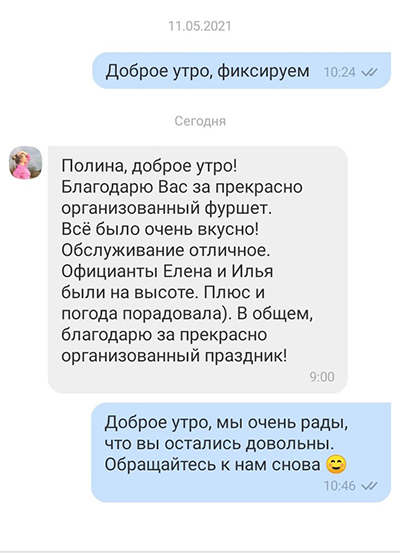 Polina
Polina, good morning! Thank you for the perfectly organized buffet table. Everything was delicious! The service is great. The waiters Elena and Ilya were great. Plus, the weather made me happy) In general, thank you for the perfectly organized holiday!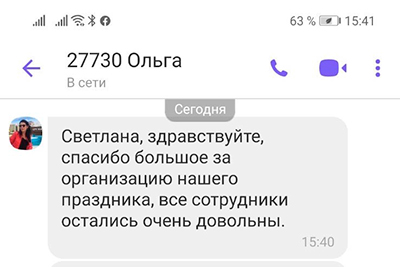 Olga
Svetlana, thank you very much for organizing our holiday, all the staff were very pleased.

Alina
Polina, thank you very much! Catering is super! Your team is great!

Alla
Good afternoon) I wanted to thank you for your contribution to our holiday. Everything was great) thanks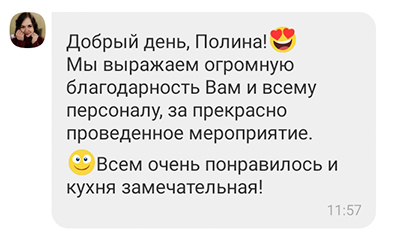 Inna
Good afternoon, Polina! We express our deepest gratitude to you and all the staff for a great event. Everyone liked it very much and the cuisine is wonderful!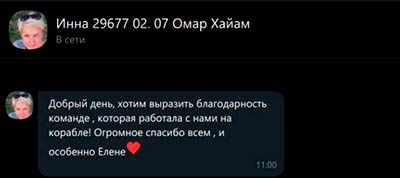 Inna
Good afternoon, we want to express our gratitude to the team that worked with us on the ship! Many thanks to everyone, and especially Elena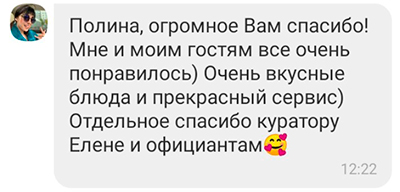 Кarina
Polina, thank you so much! I and my guests really liked everything) Very tasty food and wonderful service) Special thanks to the curator Elena and the waiters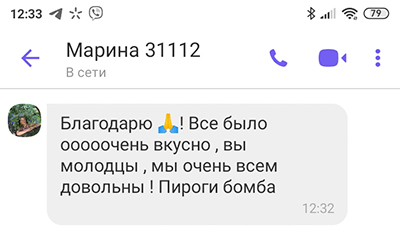 Marina
Thanks to ! Everything was sooooo tasty, you are great, we are very happy! Pies are the bomb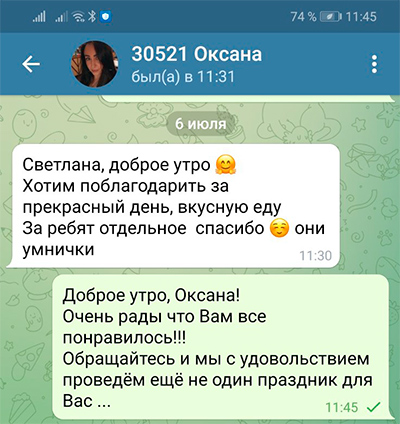 Oksana
Svetlana, good morning. We want to thank you for a wonderful day, delicious food. Special thanks for the guys, they are great

Yana
Thank you very much for the organization)) everything from you, it was cool))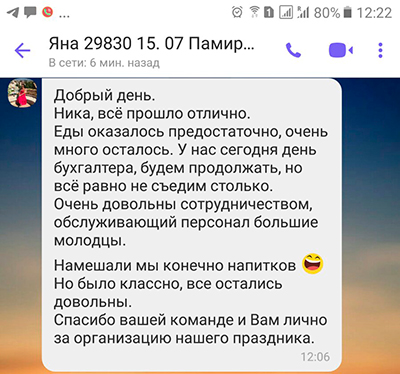 Yana
Good afternoon. Nika, everything went great. There was enough food, there was a lot left. Today is the day of the accountant, we will continue, but still we will not eat so much. We are very pleased with the cooperation, the service personnel are great fellows. We mixed drinks, of course. But it was great, everyone was happy. Thanks to your team and you personally for organizing our holiday.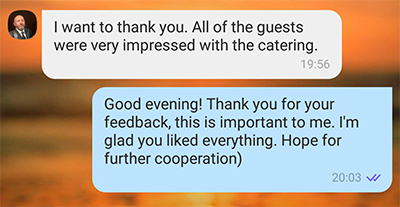 Foreign guest
I want to thank you. All of the guests were very impressed with the catering.
Banquet, fourchette from company Rentflot
Cooking on board from the company Rentflot - a high quality catering service and a great experience, since 1991, as evidenced thanks and recommendations of our numerous clients.
If you are planning an event and are looking for an interesting place - Banquet on the boat a good solution. Feast on the ship has a special atmosphere.
Our catering is useful to you, not only on board, but also on the island. Cooking on board is open throughout the voyage, providing quality service. Cocktail reception on the boat in Kiev or a banquet on the ship can be ordered in the ordinary restaurant, but it does not guarantee the timeliness and quality of services provided. Work on board requires special skill, and provided meals for the banquet should consider the features of the ship's kitchen.
Prepared menu of our restaurant catering service consists of the most delicious dishes and, if necessary, the administrator in charge of our kitchen on board, make a menu with the wishes and tastes of the client.
Each menu includes catering services, comprising:
the work of cooks and waiters
transporting in both directions
cargo handling
metal cutlery
glass and ceramic ware
serving and accessories
replacement and cleaning of plates
disposable dishes for the shore
location and vessel cleaning
Our catering service is based on the following principles:
appetizer according to the chosen menu we cook for 2 hours before the event
finished dish with cooking utensils in a thermos and special boxes are transported to the place of the banquet or buffet for 1-1.5 hours before the event
our waiters complete serving tables for 15-30 minutes before the event
customer, if desired, can independently purchase all drinks, alcoholic and soft (ware for all drinks we provide)
waiters are arranged drinks to the tables just before the start of the event
At the organization of any event, whether it's a birthday or a wedding, the reception of a delegation or the conference, a corporate party or a presentation - our catering will be indispensable!
making banquets on the ship, our staff has gained valuable experience working in small areas, with narrow corridors and limited time. Now we are ready to serve our clients in any territory and at any time.
We are always lucky with the weather!
It's really amazing feature of our events with a banquet on the ships!
In order to guarantee the success of your event, we are ready to negotiate constructively about catering on board (banquet or buffet), and discuss with you the following questions:
number of guests
type of event
venue
menu
drinks
regulations of the event
seating plan for guests
cards with the names of guests and table numbers
necessary technological equipment
We can assure you with full responsibility that we will do everything we can to please you and your guests and ensure your party, holiday, beautifully decorated dishes.
To organize banquet on the ship with Rentflot - it's easier than you thought. Jubilees, weddings, corporate events - with us you will have fun any event.
Flawless buffets and banquets - this is our business card. It is an individual approach to the Customer, in our view, ensures the success of the event.
After approval of the menu, you should consider in respect of entertainment events such as entertainers, music and interior design, amusement rides on a green park. In the list of entertainment on our website you will find the most popular offers from Rentflot.
Briefly about the terminology and advantages:
Banquet (fr. Banquet - bench) - gala dinner. Guests are seated at beautifully decorated and covered banquet tables (in more detail in Wikipedia)
Fourchette (from the French. Fourchette - ork) - sharing food, when invited to eat standing up, freely choosing food and drinks, serving themselves, using a fork exclusively (more detail on Wikipedia)
The main advantage of a buffet is that guests have the opportunity to move freely around the hall and communicate with their colleagues and friends. It is also a good choice for small sites, since it is possible to accommodate on its territory much larger number of visitors than in seating arrangements. At the cocktail party, as a rule, is a line of tables, nicely decorated with dishes, drinks and dishes for them. In the hall arranged tables for an aperitif (can be of different heights and shapes). Buffet menu, as opposed to the banquet, more diverse and also includes canapés, snacks, fruits and desserts.
more
We accept payment:
River station, berth No. 5, st. Naberezhno-Khreshchatitskaya, 4, Kiev
Favorite
Search by name