Pick up a ship
Hide filters
Show filters
Popular entertainment
Megabasketball
Fun and exciting team game Megabasketboll. You can arrange races in squirrel wheels, relay races, or you can put them on the ground and use them as "baskets" for playing giant basketball - team competition with a ball 1.5 m in diameter.
THANKS TO OUR ATTRACTIONS WITH INSTRUCTORS AND THE PRESENTER WITH A DJ, YOU CAN FULLY ORGANIZE YOUR EVENT WITH A LITTLE BUDGET OF YOUR FIRM
Video and photos made from quadcopter
Professional video-photo-operator of aero-drone for shooting on yachts, boats and motor ships. A spectacular 2-minute video and high-quality photo images will become an original decoration of your social networks or website, as well as your personal gallery. And the faces, emotions, surroundings captured on them will remind you of the wonderful moments of that day.
Dj with sound equipment
A fashionable and stylish DJ knows how to make you and your guests smile and dance, and bright professional sound and lighting design will make your holiday a real show.
Advantages

Direct rental
We administer both public and private vessels, advertising and event agencies, travel agencies and hotels, intermediaries, and, of course, end customers work with us.

Best rental price
Each ship value is clearly regulated and declared in the relevant sections of the site

Office at the river station
We are at the epicenter of river shipping, nearby with the city center at M. Pochtovaya square. Here you can familiarize yourself with ships and berths, as well as get expert advice from our specialists

Reliability
The feedback and recommendations of our customers confirm the high quality of the service that the employees of our company provide.

many years of experience
We annually serve hundreds of flights and thousands of guests, and we do not have the right to mistakes and shortcomings, as we value the image that has developed over the years

efficiency
We work at any time without days off and holidays. Exit by boat, boat, yacht for half an hour, or set the table for 3 hours - this is for us, a common practice

stability
In the shipping market since 2001, we are an officially registered trademark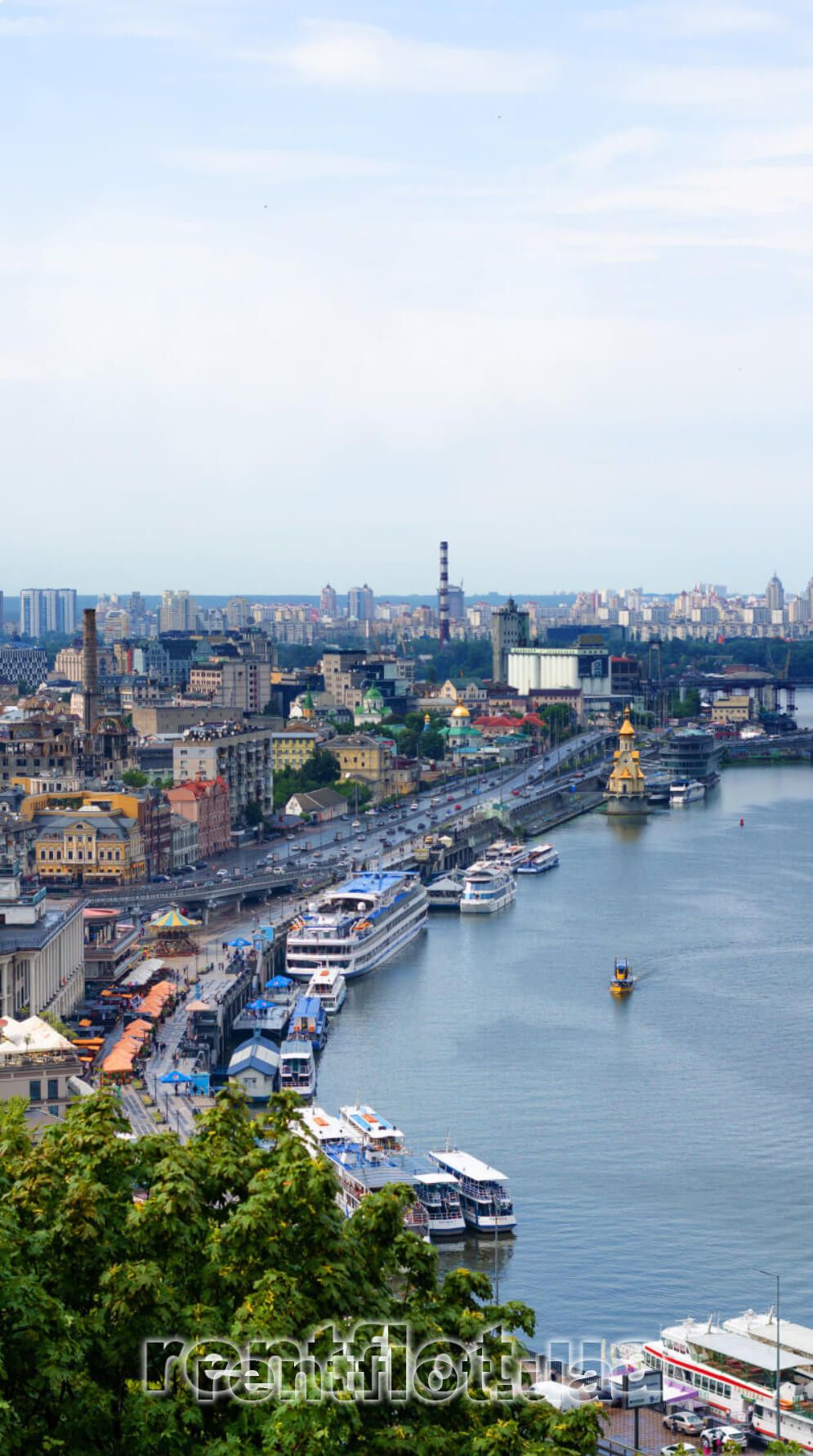 Reviews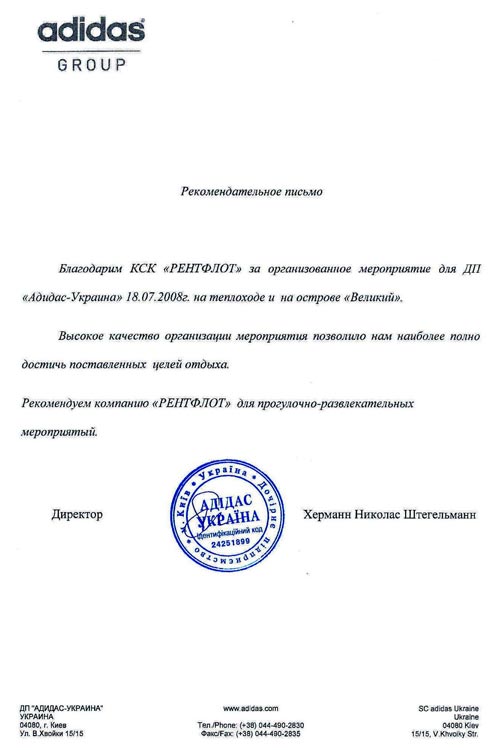 Briefly about «Adidas-Ukraine»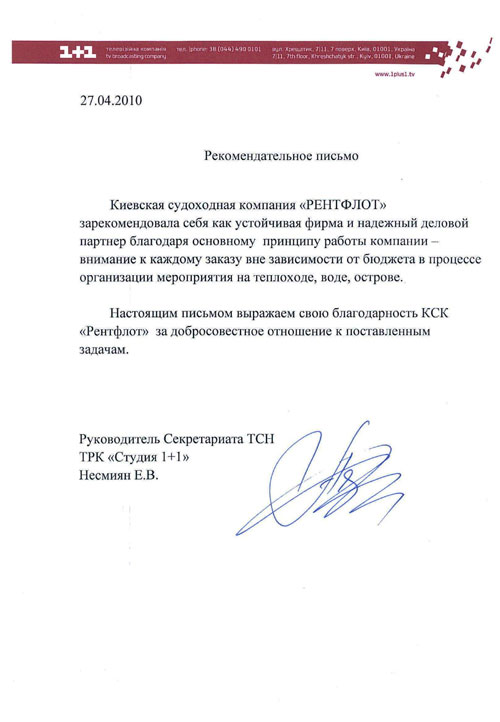 Briefly about «1+1» TV channel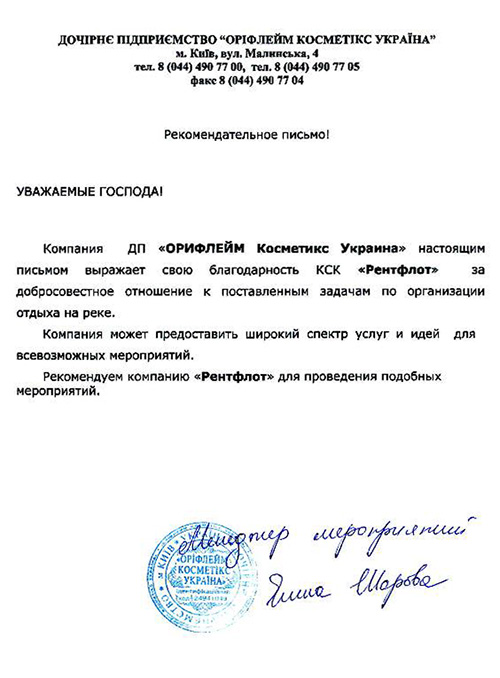 Briefly about «Oriflame»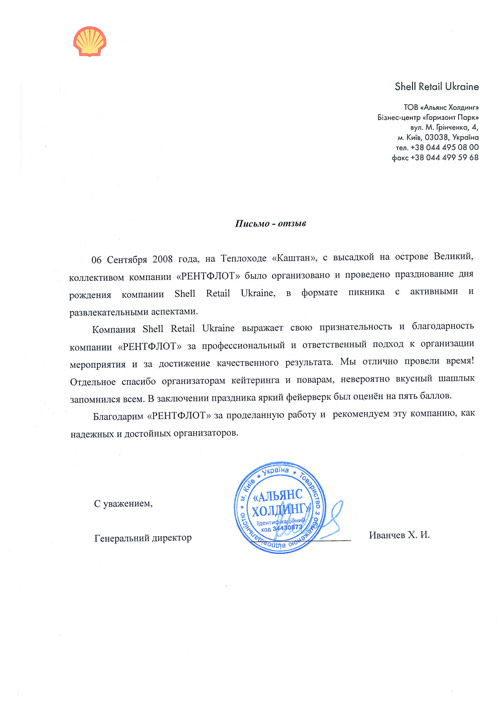 Briefly about «Shell»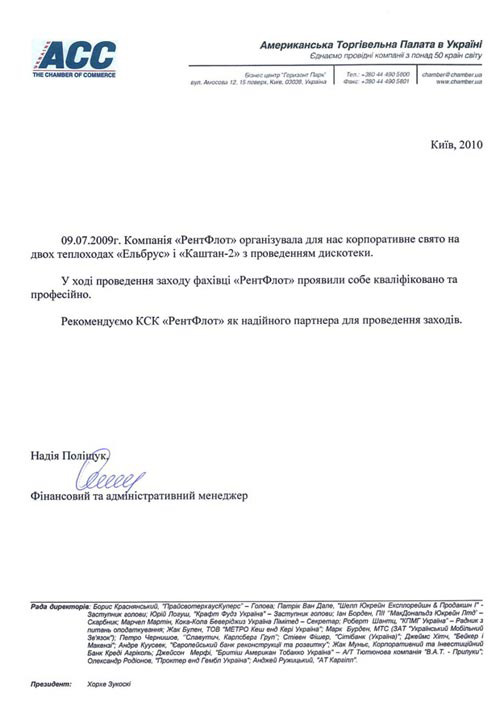 Briefly about «American Chamber of Commerce in Ukraine»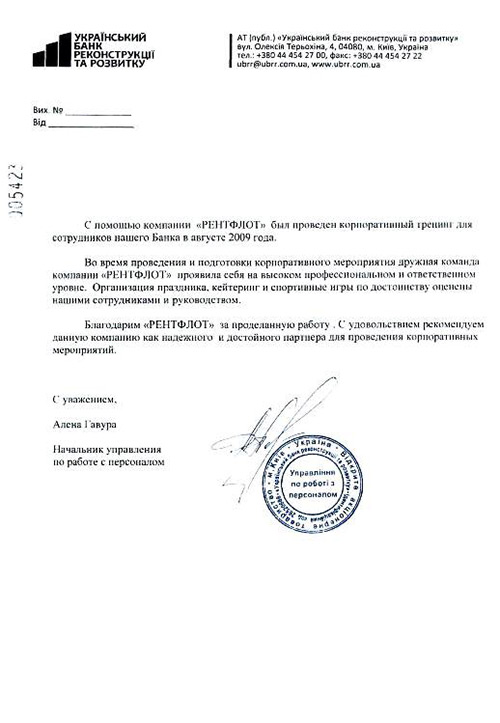 Briefly about «Ukrainian Bank for Reconstruction and Development»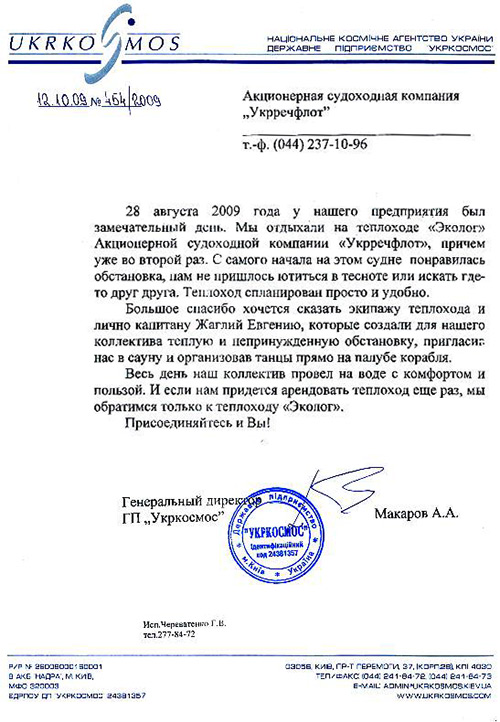 Briefly about «Ukrkosmos»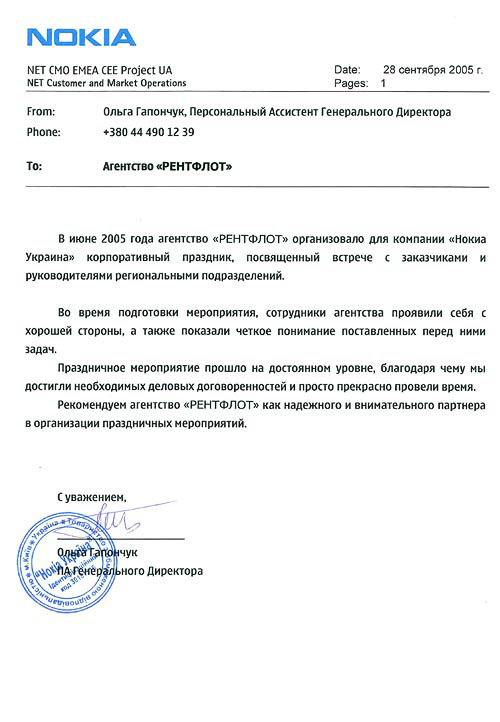 Briefly about «Nokia»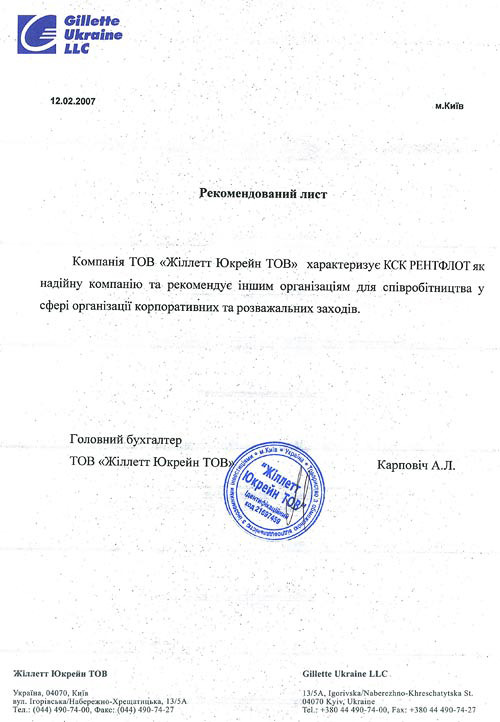 Briefly about «Gillette Ukraine LLC»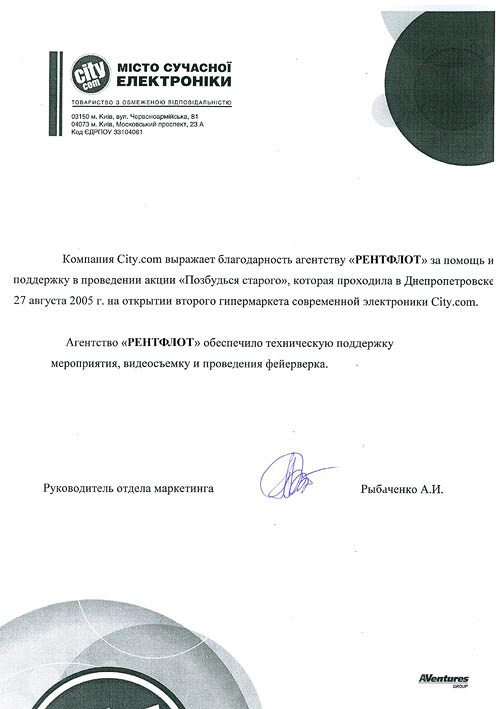 Briefly about «City.com.ua»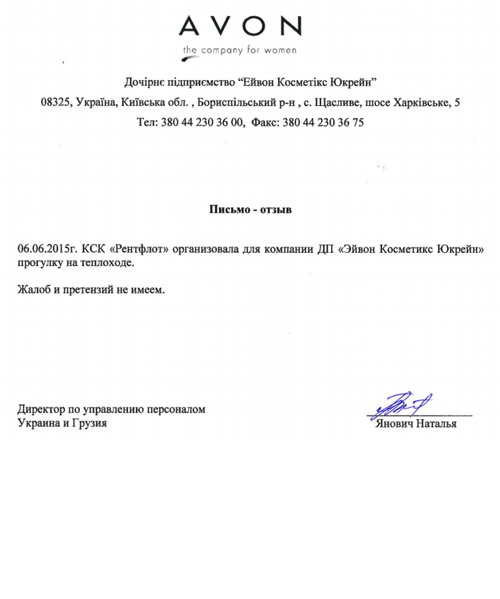 Briefly about "Avon Cosmetics Ukraine"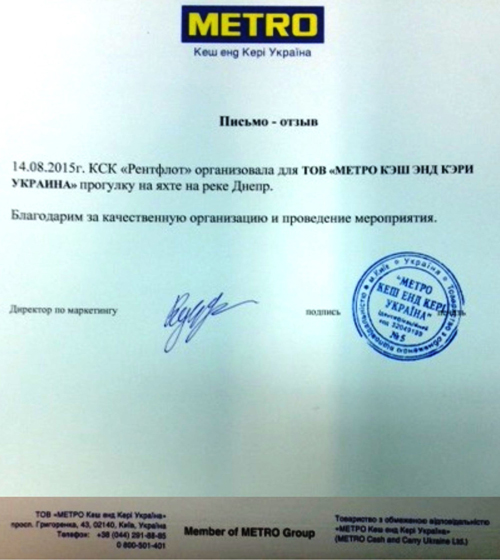 Briefly about METRO Cash & Carry Ukraine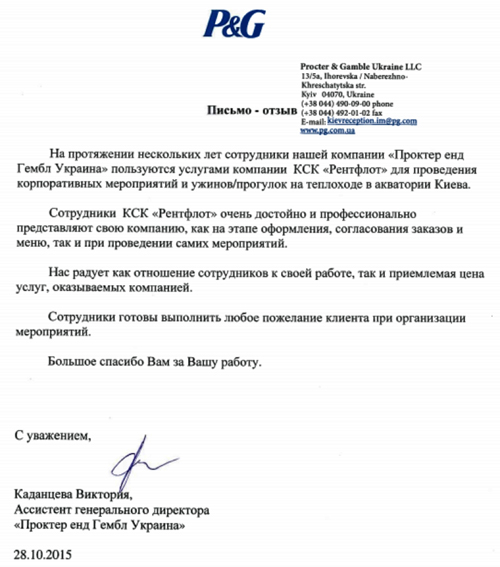 Briefly about "Procter & Gamble Ukraine LLS"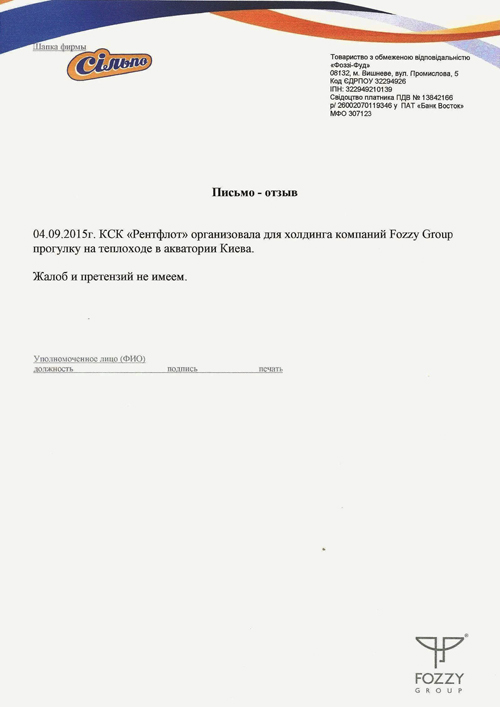 Briefly on the "Group of Companies FOZZY GROUP»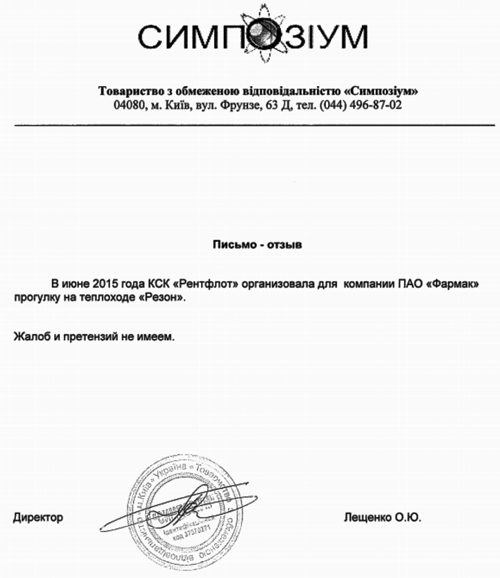 Briefly about "Farmak ™»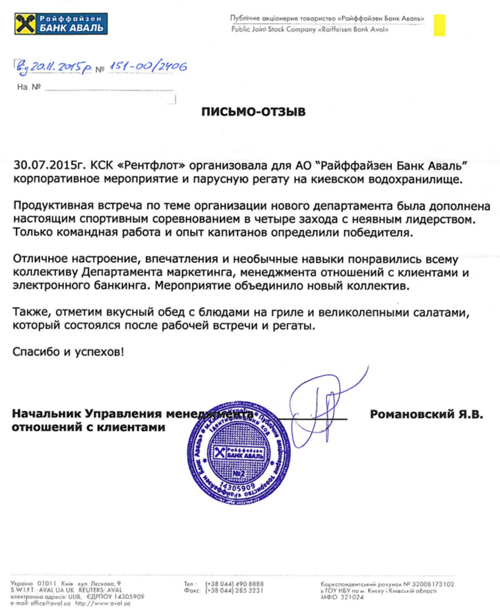 Briefly on the "Raiffeisen Bank Aval"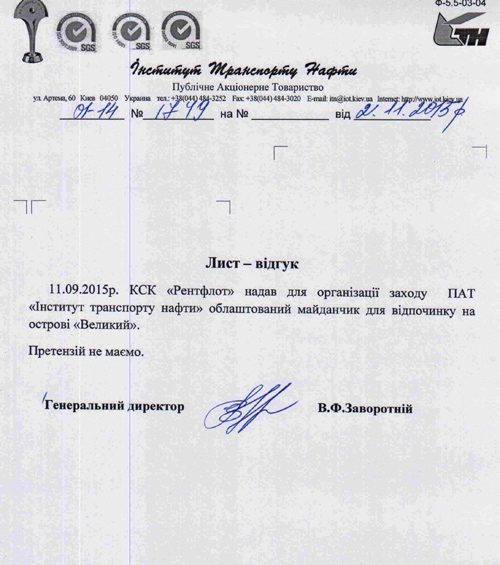 Briefly about the "Institute of Oil Transportation»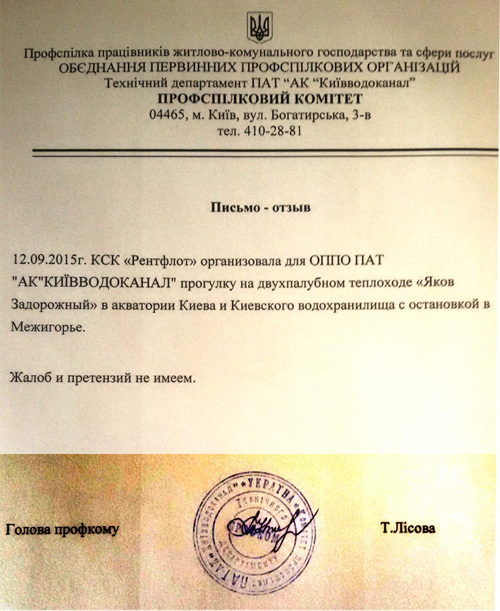 Briefly about "Kyivvodocanal"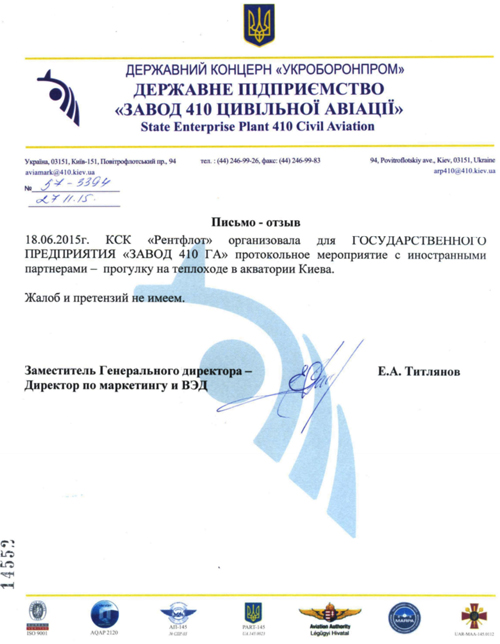 Briefly on the "Factory 410 of Civil Aviation"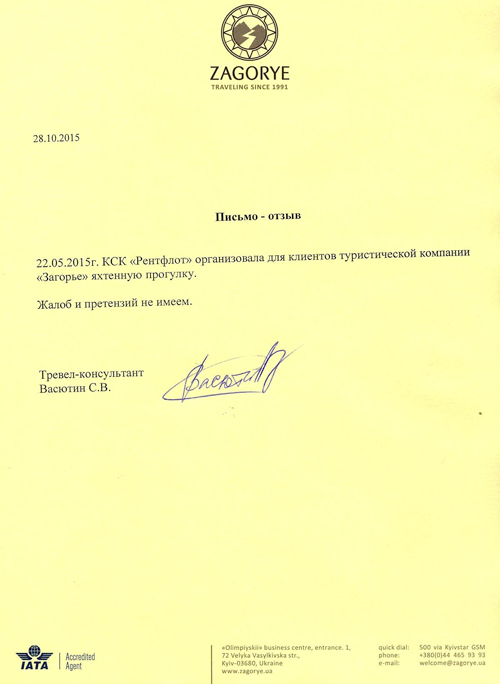 Briefly about «ZAGORYE»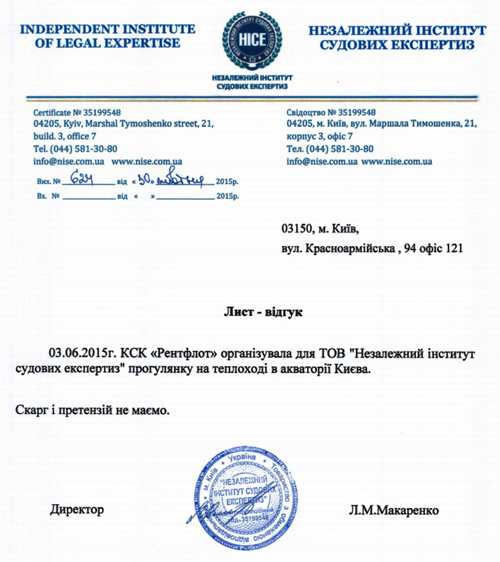 Briefly on "Independence Іnstitut of Forensic examination"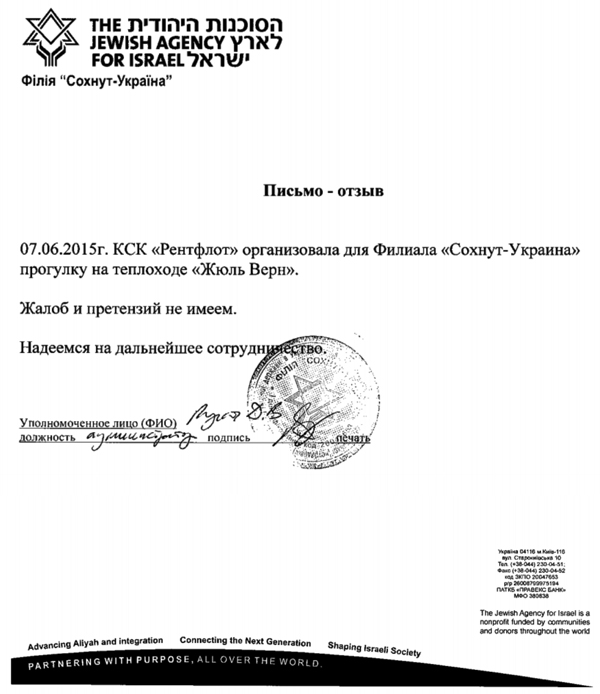 Briefly about "Branch of "Sohnut - Ukraina"»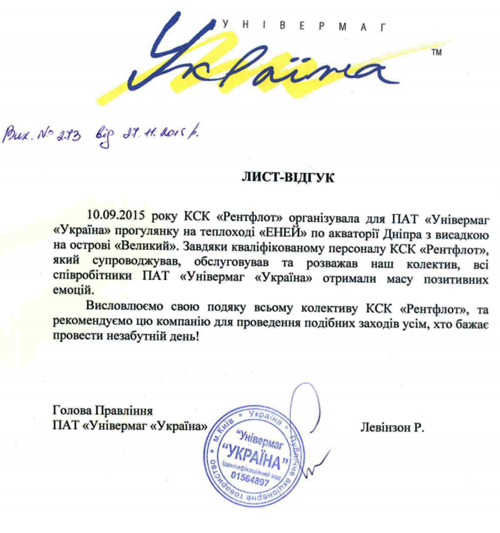 Briefly about "Department Ukraine"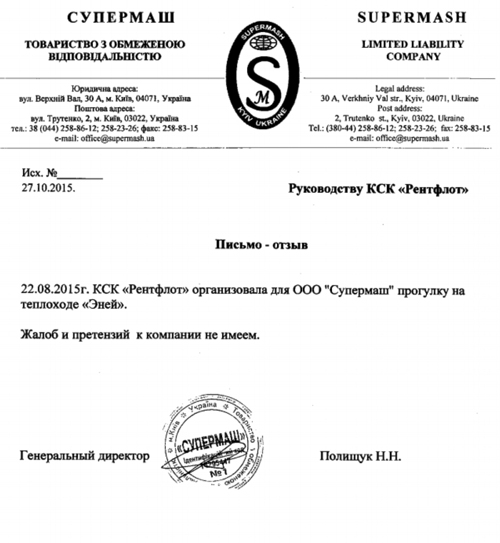 Briefly about "Supermash"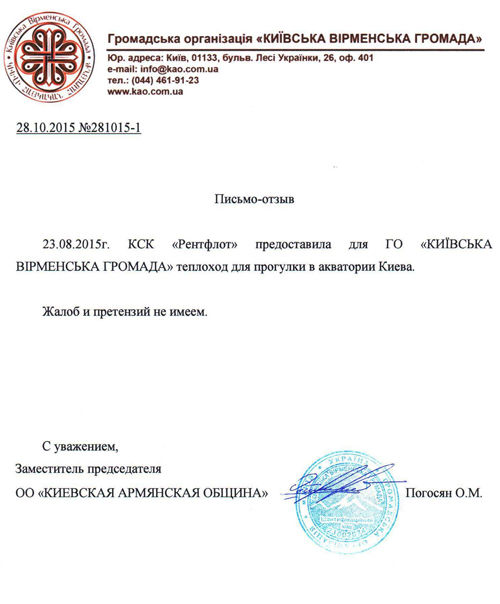 Briefly on "The Armenian community of Kiev"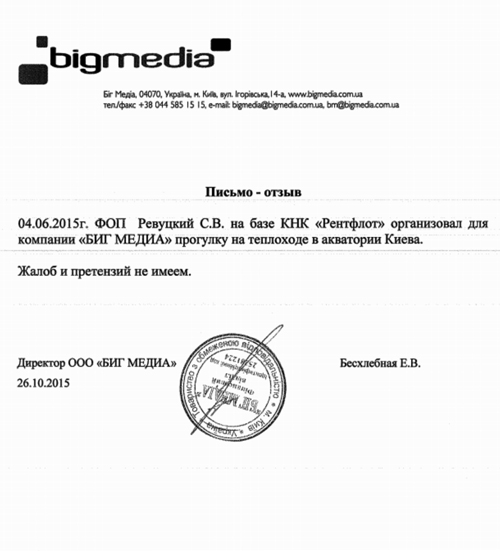 Briefly about «BigMedia»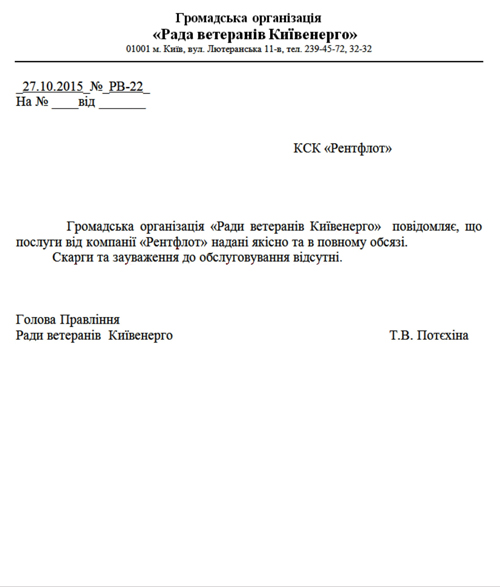 Briefly on the "Council of Veterans Kyivenergo"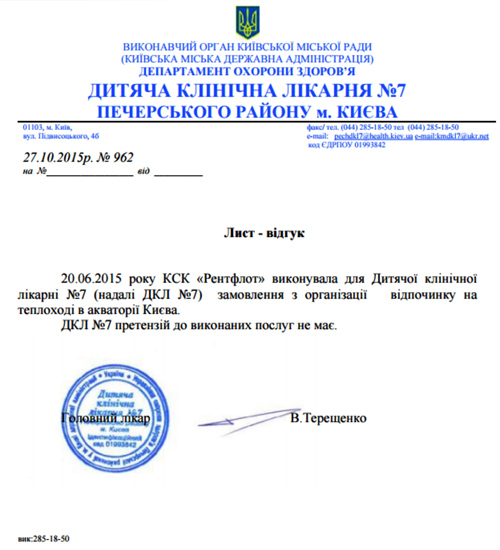 Briefly about "Kiev children's clinical hospital №7»
Briefly on "New Standard of Business Travel"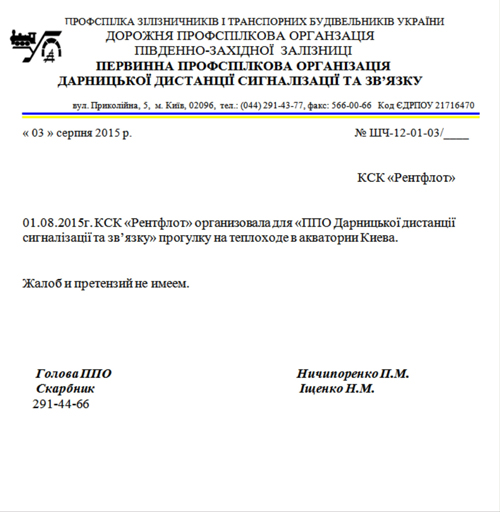 Briefly about "PPO Darnitsa signaling and communication"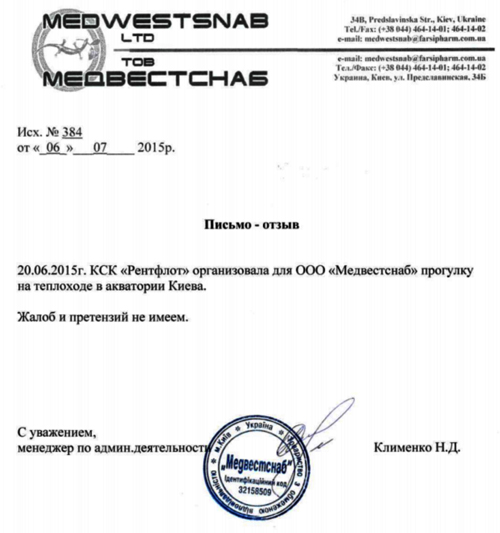 Briefly about "Medvestsnab - FarsiPharm ™»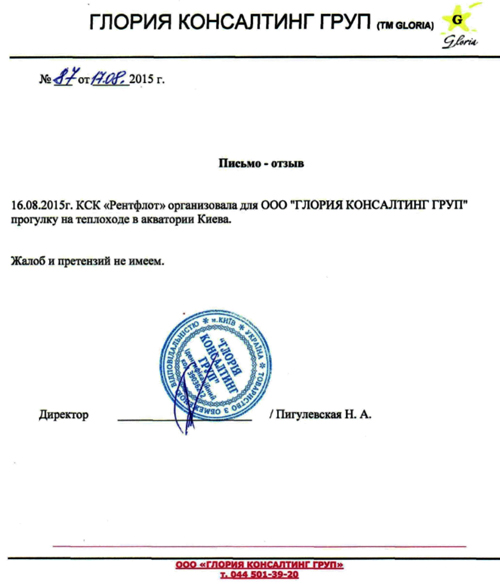 Briefly about "Gloria™»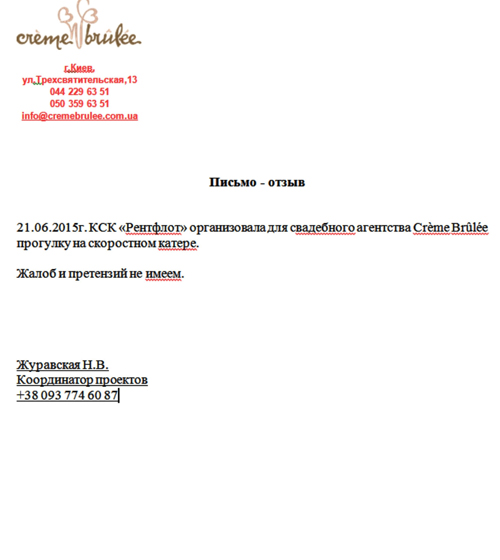 Briefly about "Wedding Agency Cream Brule"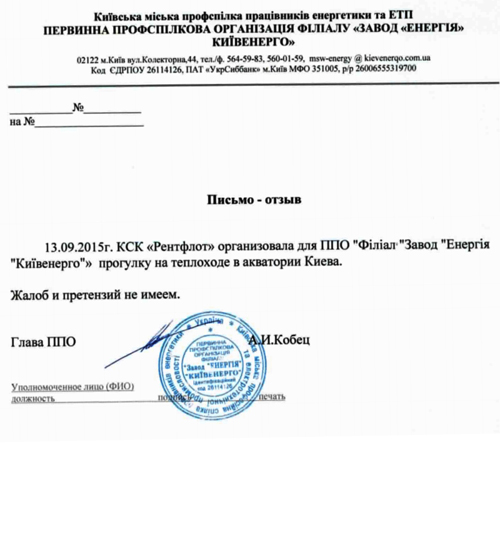 Briefly about "PPO branch of" Plant "Energy" Kyivenergo ""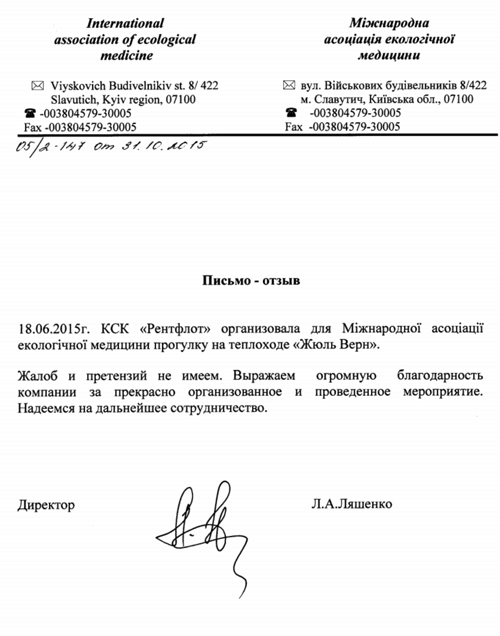 Briefly about "International Association of Environmental Medicine"
Rent of motor ships is a priority area for Rentflot. This means that renting a motor ship in Kiev with Rentflot will be the best choice for you, because we have real experts in their field.
Who may be interested in renting motor ships in Kiev?
It is believed that renting a motor ship is a service exclusively for large companies. But in the fleet of ships Rentflot there are a variety of models of ships. Therefore, any company will be able to relax with us on the river - from 15 to 150 people!
Pay attention to the reputation and experience of the company. In the warm season, one of the most popular services is the rental of motor ships. Kiev, as a large city, has several companies providing such services. Rentflot is one of the most reliable and large companies where you can rent a ship.
We will put all our capabilities and all our experience in order to make your stay as comfortable and safe as possible. You can go for a short walk or take a small cruise for yourself - it's easy with us, because our life's business is to rent motor ships Kiev can become the starting point of an exciting journey - go for it!
Renting a motor ship is, first of all, saving your money and comfort of those present at the event. For many reasons, it is important to rent a boat for a certain number of people, only in this case it will not seem to you that there is a lot of space or not enough; you don't have to look for guests all over the ship or huddle in cramped spaces. We offer various boat rental options for each individual case from 2 to 300 people.
Renting a motor ship is a whole complex of events, as a rule, organized by our company staff for you on a turnkey basis. You do not have to look separately for musicians, a host, a show ballet, transport, sports equipment, etc. - All of these services, if necessary, we can arrange for you at the highest level and in the right time.
Renting a motor ship is our on-line service: using the navigation of our website you can view photos and get the most popular information on renting motor ships, boats, yachts, jet skis (water scooters), catering services (see the menu and prices), as well as other services. In addition, you can make an order to rent a ship directly from the site! Just fill out the form and we will contact you to clarify the details.
The original party? A romantic walk? Just a day off? Boat rental is what you need! No technical inspections, no repairs - you just use the boat when it is convenient for you, and we take care of the rest. Sail away from the city alone or take friends with you - you will have a great time anyway. With our company, any solution is simple and affordable - a small motor boat for a Sunday walk or a real boat cruise. Choose!
For large companies, a serious solution is needed - a boat rental. Compact and reliable ship for 15 people or a real liner for 150 - here you will find any solution. Meet your colleagues? Have a buffet? Enough space for everyone! Plan a boat trip with your whole family and friends for your vacation - an unforgettable time awaits you! Our ships are equipped with everything necessary for your comfort and safety - the trip will be pleasant and carefree for you.
Truly feel the freedom will help you rent a yacht. The taste of true connoisseurs will be completely satisfied with us: a sailing or motor yacht, they are represented in our park in all its diversity. Please yourself and relatives, friends, impress colleagues. In the end, feel like a captain - go on a cruise on a yacht. We will gladly provide you with such an opportunity, as well as everything that will be necessary. Make your dream come true now!
If you are a lover of romance, and your friends and relatives love to have a great time in good company, if you need to organize a business meeting in a relaxed atmosphere away from prying eyes and city bustle, if you are planning a family celebration or intend to celebrate a holiday in nature - rent ship will allow you to hold an event at the highest level.
Rest on the river is a favorite pastime of Kievites and guests of the capital. You do not need to worry about anything, as our employees take care of the entire organization and material support of your event. And they, undoubtedly, have enough experience for everything to go without a hitch. Order any vessel you like and enjoy the rest on the water and the beauty of nature!
more
We accept payment:
River station, berth No. 5, st. Naberezhno-Khreshchatitskaya, 4, Kiev
Favorite
Search by name