Koncha Zaspa - Ukrainka city
Yacht Legat leaves the yacht club on the island of Zhukov and heading towards the city of Ukrainka.
When calculating a route, it is important to consider:
estimated running time towards Ukrainka - 4 hours
return of the vessel from Ukrainka to the yacht club - 5 hours
the time of a possible stay on the islands is calculated according to the sailing tariff of the yacht
The total length of the route и"Koncha Zaspa - Ukrainka city" - is about 27 km. On a one-way sail, it can be overcome in an average of 5-6 hours.
Route "Koncha Zaspa - Ukrainka city"
Leaving the yacht club, it passes through the Starik Bay between Vodnikov Island and Zhukov Island, then, downstream, bends around the Sand Quarry and past Olgin Island goes to a series of wild islands stretching along the Dnieper up to Ukrainka.
Description of the turning point
Ukrainka (907 hectares) is a city of power engineers, first mentioned at the beginning of the 19th century, located on the right bank of the Kanev reservoir not far from ancient Tripoli. Now it is a tourist town and is famous for its historical status, being adjacent to the archaeological museum of Trypillian culture and Devich Gora - the highest point of the city. Youth and rock festivals are regularly held in the city, and sailing regattas are held on the Dnieper.
In the 60s, the Trypillian thermal power plant was built here, which changed the status of Ukrainka as a city and the surrounding area, since it changed the course of the Stugna River.
Selected ship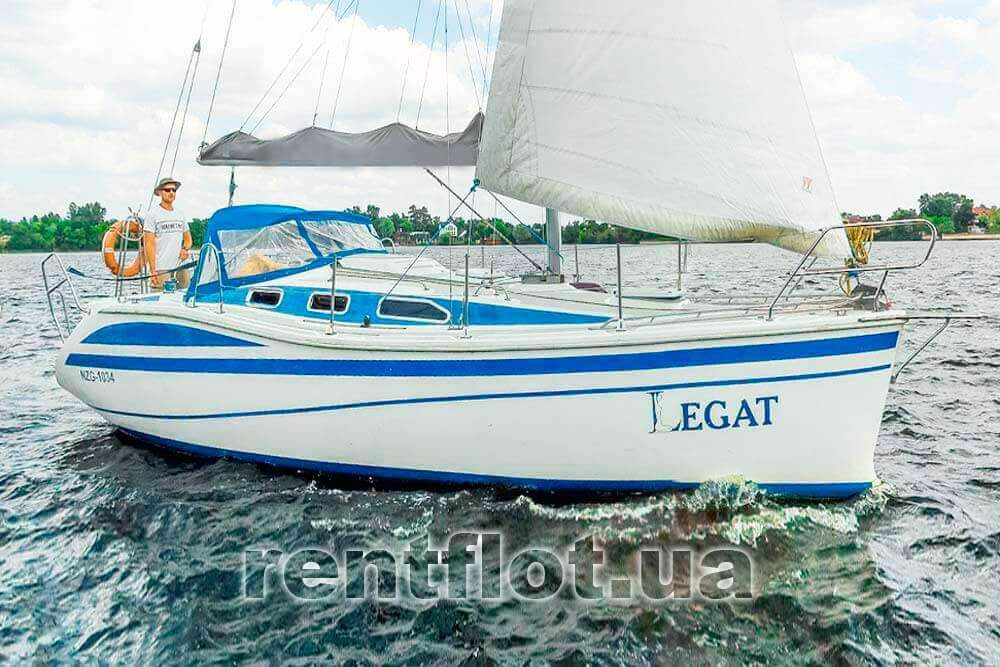 Bright comfortable yacht Legat with a magnificent modern design and ergonomics of navigation more
We accept payment:
River station, berth No. 5, st. Naberezhno-Khreshchatitskaya, 4, Kiev
Favorite
Search by name
Pick up a ship
Hide filters
Show filters